Our collection of Fine Spirits is second to none. With an expansive array of flavored Vodkas, Bourbon, Cognac, exotic Rums, Liquers/Cordials and more, you're certain to find exactly what you're looking for at Norman's Fine Wines & Spirits. Browse our online listing or visit one of our locations for a truly enjoyable shopping experience.
Bartlett pear and oily, waxy aromas follow through to a slightly tannic, dry-yet-fruity medium-to ...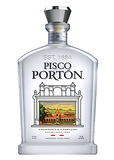 Handcrafted in small batches, Portón is a combination of Quebranta, Albilla and Torontel ...